I offer therapy via Zoom in the privacy of your own home – wherever you live.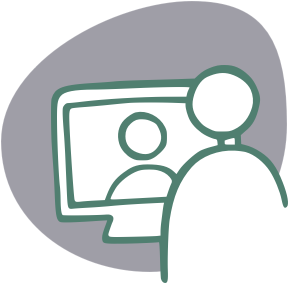 Talking openly and confidentially with me as a professional therapist can help you to explore your feelings, consider different perspectives, find coping strategies and work towards making the changes you need to feel better. Whatever brings you to therapy, you can choose from weekly sessions for a set amount of time (minimum 12 weeks), or open ended i.e. you stop when you feel ready. We will explore what type of support you are looking for in our first session. I am based in Brighton, East Sussex, UK, but video call enables us to meet wherever you live.
The first step
It is often helpful to have an initial – no obligation – consultation about what brings you to therapy now, what you hope to get from it, and enable you to ask any questions you may have. Your first session will usually take place around one week after you initially contact me.
Weekly sessions
Therapy sessions are 50 minutes long and usually take place at the same time and day each week. I hold that time especially for you so it is important that you check you are available each week. It is also helpful for us to agree together how long your sessions will continue. I am experienced at working in a time-limited way for a minimum of 12-40 weeks. We can work long term, to enable us to work more deeply so that you may achieve longer lasting change.
Confidentiality and safety
Everything you share with me in therapy is confidential, unless I am concerned for your safety or the safety of others, when I may need to contact your GP or an appropriate person or authority. I will always discuss my concerns with you in the first instance and aim to gain your consent to contact others.
As a qualified practitioner I have regular professional supervision. I may share aspects of our sessions with my supervisor within what is called the circle of confidentiality.
Costs and cancellations
I hold that session time for you so if it is important you commit to attending regularly. If you do not attend or forget to notify me of holidays full payment is required on the day the session was due to take place. I appreciate being given as much notice as possible for any holidays you plan.
Ending your therapy
We will review how you feel about your therapy in our sessions on a regular basis, as well as considering and agreeing when you wish to end your sessions. Please be aware that it is important not to end your sessions abruptly and it is preferable to give at least one weeks notice, and attend the final session.
"I'm someone who likes to be in control, so was reluctant to speak to a therapist about losing my father five years ago, but it got to the point where the experience was still very raw. I was unable to talk about him and my anger around the loss was beginning to affect my other relationships – I couldn't put it off any longer. Debbie was approachable, kind and understanding and asked the right questions. It was very difficult for me to talk about my dad's death initially but she made it relatively easy, even though the sessions were over Zoom (and we were 7,000 miles apart!). Debbie really helped me to make connections between my past experiences, to get through some of my emotional roadblocks, and to unlock more of the good memories. After six sessions with Debbie, I now feel very different; the loss of my dad feels less raw, I feel less angry, and I can talk quite comfortably about my dad, for the first time in five years. I am in a much better place now. Thank you!" Craig