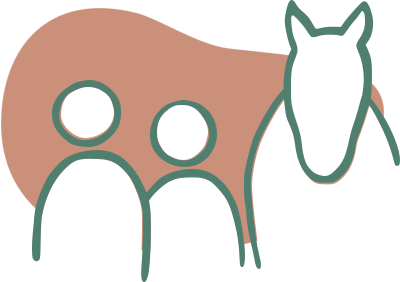 Equine-facilitated Psychotherapy (EFP) means therapy for humans with horses. It is an innovative approach to healing psychological distress, such as trauma, low self-esteem, anxiety and depression. Therapy with horses can build on previous counselling, provide an alternative if you are finding regular therapy difficult, if you feel stuck, or if you like the idea of being in nature for your therapy.
Anyone can benefit from EFP – it can be life-changing. Contact me for an initial confidential consultation to find out more about how EFP could help you.
Why therapy with horses?
The benefits of the human animal bond has been recognised for a very long time and horses have a clear place in our history, mythology, and collective imagination. Horses are considered to have unique therapeutic benefits because they live in herds and are highly attuned to others and their environment for their survival from predators. This means, for example, horses are highly sensitive to your body language, tone of voice and intention, and they will respond with immediate feedback. Like humans, they are sentient mammals, but they are non-verbal, non-judgemental and very much live in the moment. Over the last 10-20 years there have been a significant number of studies that demonstrate the benefits of equine therapy for people suffering from anxiety, low self-esteem, depression, eating disorders, addiction, trauma and PTSD, grief and cancer.
What to expect
I work with horses at a small private yard in Sussex, UK. Sessions are held outside in a field, or barn. No riding experience is required as all the activities take place on the ground. I tailor sessions to suit your needs using a model developed by LEAP Equine, which leads the way in EFP training in the UK and adheres to the BACP code of ethics, as well as horse welfare ethics. The LEAP Method typically involves a programme of up to eight 90 minute sessions, either weekly or fortnightly.
Working with me as a trained therapist alongside horses as co-therapists allows us to reflect on how you respond to, and affect the horses. This can lead to insight in to your emotions, how you feel about yourself, and what patterns and expectations you bring to relationships. Greater self-awareness is necessary for creating internal change. Being accepted by the herd can be a profoundly moving and healing experience.
Confidentiality and safety
Everything you share with me is confidential, unless I am concerned for your safety or the safety of others, when I may need to contact your GP or an appropriate person or authority. I will always discuss my concerns with you in the first instance and ask for your consent to contact others.
It is part of my duty of care to ensure your safety as the client. You will be required to read and sign a safety aspects of EFP agreement
Horse welfare
I am guided by strong ethics of horse welfare in my work and I am currently training in the Trust Technique (https://trust-technique.com/) which is founded on kindness, mindful regard and respect for animals.
Costs and cancellations
Horse therapy sessions last 90 minutes and cost £90 per session. A small discount is available if you pay in advance for a set number of sessions (minimum three sessions).
I hold the agreed session time for you so, if you are unable to be present for any reason full payment is required on the day the session was due to take place.
Testimonials

"Overall I was surprised by how quickly the sessions touched deep and emotional subjects and by how the interactions with the horses served as positive modelling...It dawned on me with some amazement that the horses didn't want anything from me. I was blown away by their calmness around me. I felt accepted."
"Working with horses crystallised deep relational issues that I have spent many, many months talking about in previous therapy."